This is the best of the best!
Source Removal Air Duct Cleaning.
Abatement Technologies high-performance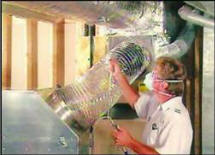 source removal duct cleaning equipment and
specialty tools physically remove dirt, debris
and other contaminants from commercial and
residential ductwork systems.
These exceptionally portable HEPA-filtered air duct cleaning

vacuums are designed to help duct cleaning professionals
clean HVAC air duct systems faster and more efficiently.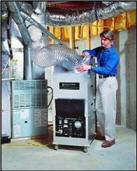 HEPA-AIRE Portable Power Vacuums from Abatement
Technologies place the duct system under vacuum, or
negative pressure, to collect debris and contaminates
from the ducts. These powerful units provide
three-stages of filtration with a 99.97% HEPA final filter.
Thank you for visiting us on the Web!!!
For More Info Call Us Today!
(870) 856-2144
Cherokee is proud to be affiliated with:
Home l Why Choose Cherokee l History l Trade Associations l What Do Our Clients Say l The Carpet & Rug Institute
What Do Carpet Makers Say l Our Guarantee l The Benefits l Allergy Relief l Fabric Protection l Free Estimates
Our Promise to You l Carpet Cleaning Method l Carpet Cleaning Equipment l Video of the Process l Cleaning Packages
Upholstery Cleaning l Upholstery Cleaning Equipment l Oriental Rug Cleaning l Air Duct Cleaning l Air Duct Cleaning Equipment
Video of the Process l Drapery Cleaning l General Spotting Tips l Ultimate Spotting Guide l Free Bottle of Spotter
How to care For Your Carpet l Internet Special l 1/2 Price Carpet Cleaning l Carpet FAQs l Air Duct FAQs l Before We Arrive
100% Satisfaction Guarantee l Be Informed l Warning
Copyright © 2014 Cherokee Carpet and Air Duct Cleaning